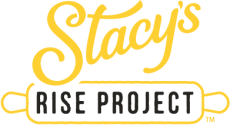 Apply to the Stacy's® Rise Project for a once-in-a-lifetime opportunity to grow your business through funding, mentorship and community.
As a brand founded by a female entrepreneur, Stacy's Pita Chips believes in celebrating strong, hard-working women with entrepreneurial passion!
Applications are now open for the first-ever Stacy's® Rise Project Program directly helping women grow their food-focused businesses. A team of leading business founders will serve as judges to select five female entrepreneur finalists who will be awarded a $20,000 funding prize, entrepreneurial advice and network building support. One of these female founders will win an additional $100,000 grand prize award to help take their business to the next level.